TAN – Electromechanical turrets with vertical axis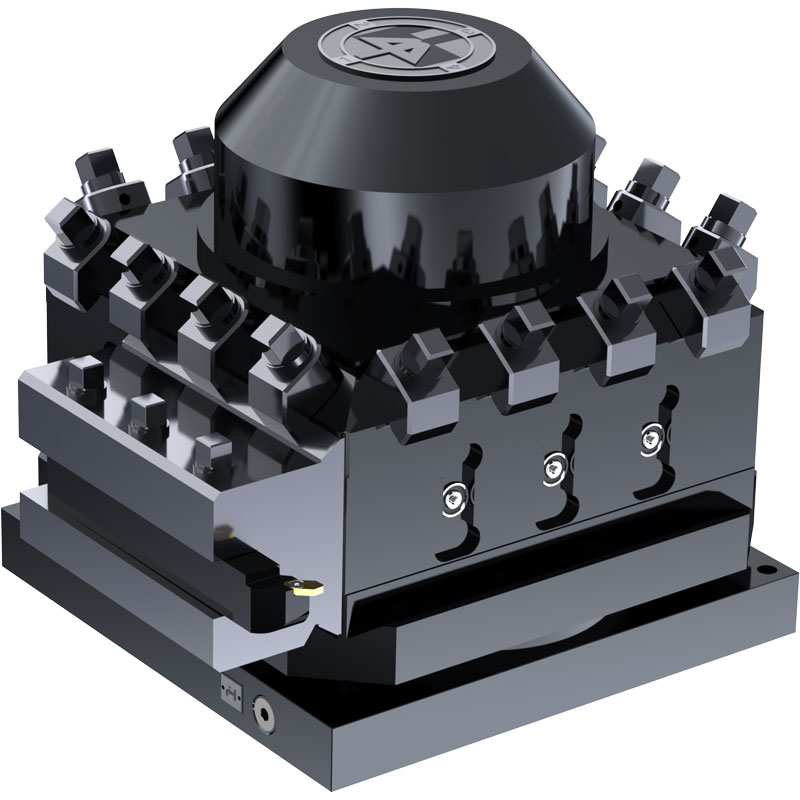 TAN series turrets consist of a fixed basis and a rotating head both of hardened and grinded steel.
Thanks to an innovative electromechanical system a single motor controls the phases of release, of rotation of positioning and locking.
These turrets can be mounted with the axis in horizontal, vertical or slanting position.
It is possible forthermore to select any work station without necessity of stopping in the intermediate stations.
Turrets are normally built for carryng 4 tools as per DIN norms 3425; on demand they can be supplied with a different number of face s and every fce is supplied with a slot for the positioning of the tools (presetting), solution which allows to reduce tha dead times necessary for the presetting of the tools.
Size
160
210
265
340
440
Number of stations
4
4
4-6
4-6
4-6-8
Moment of inertia
Kgm²
1
3
9
22
55
Max tangential torque
Nm
1500
2900
6500
12900
26100
Tilting torque in pressing direction *
1620
2925
6950
19500
38500
Tilting torque in lifting direction*
935
1870
4450
9500
17650
*Distance from the turret axis
mm
180
225
280
350
450
Unbalancing torque on horizontal axis
NM
8
35
130
200
400
Positioning accuracy
Deg.
± 5"
Positioning repeatability
± 1,8"
Unlocking  time
Sec
0,28
0,35
0,50
0,70
0,80
Rotation time (360°)
1,66
4
5
7,5
10
Lockingtime
 

 

0,82
0,85
1
1,4
1,6
Indexing frequency
n°/h
600
480
480
250
200
Max Coolant Pressure
Bar
20
Eyebolt hole dimension
M10
M12
M20
M24
Max weight to be carried
Kg
35
75
120
220
320
 Turret weight (without tools)
31
62
116
250
430
Environment temperature range
°C
+5 /+40
Download catalog