TB Series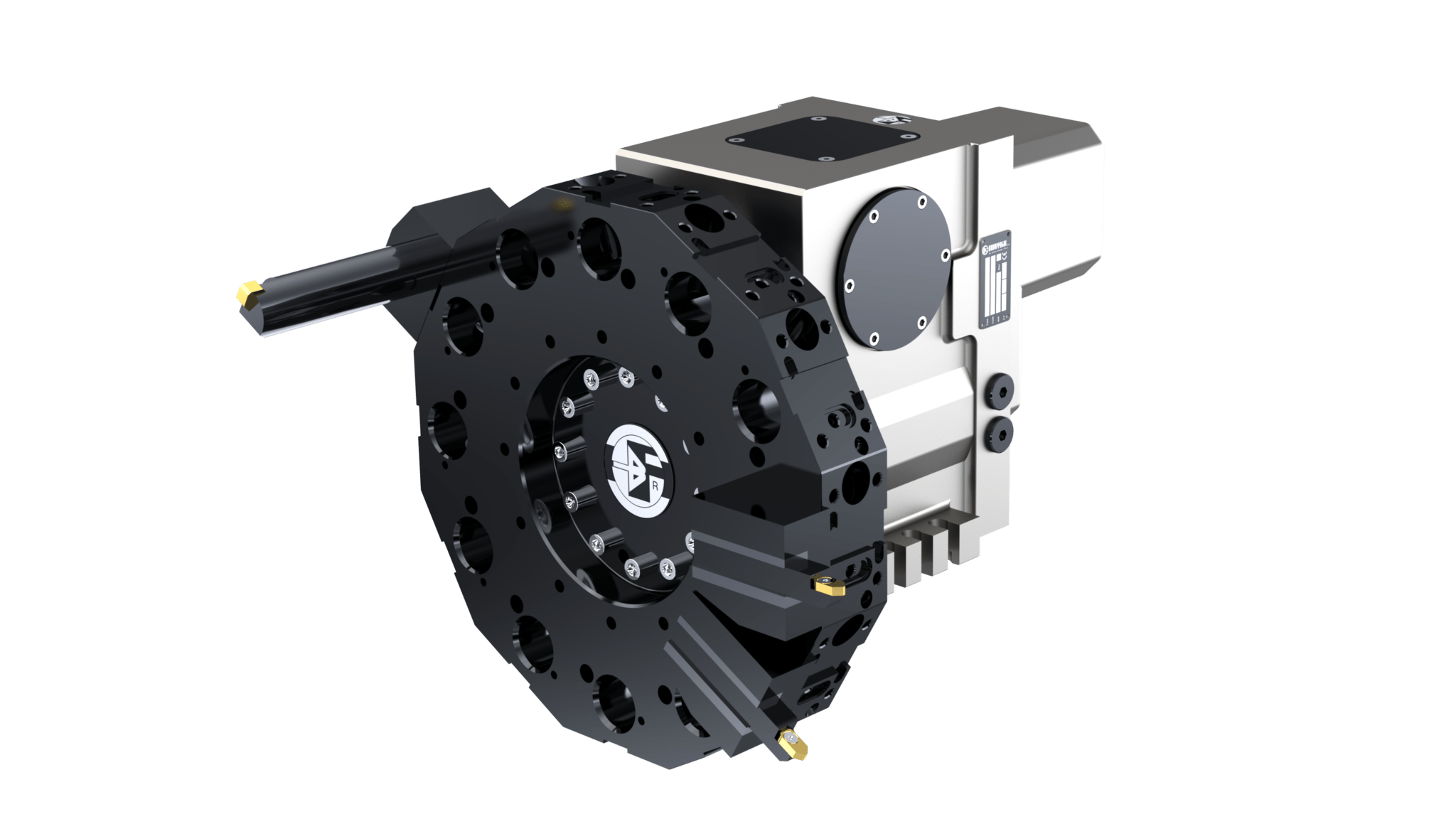 The turrets TB.. type rotate thanks to a BRUSHLESS SERVO-MOTOR, controlled by a new generation proper driver.
Thanks to this new combination, extremely reduced time s and shockless positionings are performed.
The docking of the turret occurs through the Belleville washer that give a strong stiffness to the turret.
A pneumatic actuator (standard) or hydraulic (on request) locks/unlocks the turret.
The turrets can perform various positions and various inertia of applied masses.
Size

Taglia

TB100
TB120
TB160
TB200
TB250
TB320
TB400
TB500
Number of division

Numero di posizioni

8-12-16
8 – 12 – 16 – 24
Moment of Inertia

Momento d'inerzia

Kgm²
0,25
0,15÷1,8
0,15÷1,8
0,4÷8
0,4÷8
0,7÷40
20÷100
100
Max tangential torque

Max coppia tangenziale

Nm
450
1100
1900
4000
7500
16000
26000
75000
Max Overturning torque in pressing direction

Max coppia ribaltante a premere

400
1200
2100
6000
12000
25000
41400
50000
Max Overturning torque in lifting direction

Max coppia ribaltante a sollevare

150
700
1600
3500
6500
13000
20000
25000
Max Unbalancing torque

Max coppia sbilanciata

3
10
15
40
60
160
470
500
Positioning accuracy

Precisione di posizionamento

Deg.

±4″
Accuracy of repeatability

Accuratezza Ripetibilità

Deg.

±1,6″
Positining time *

Tempo di Posizionamento *

30°
sec
0,13
0,13÷0,24
0,20÷0,34
0,64
0,86
45°
sec
0,17
0,17÷0,28
0,25÷0,38
0,71
0,96
180°
sec
0,3
0,34÷0,50
0,53÷0,73
1,76
2,42
Unlocking + Locking time*

Tempo di sbloccaggio + bloccaggio*

sec
0,3
0,43
0,53
1,2
Pneumatic Locking Pressure

Pressione pneumatica di bloccaggio

Bar
5 ±1
/
Hydraulic Locking Pressure

Pressione idraulica di bloccaggio

Bar
/
30 ±3
Max coolant pressure (standard version)

Max Pressione refrigerante (versione standard)

bar
40
Max coolant pressure (special version)

Max Pressione refrigerante (versione speciale)

bar
70
Max coolant pressure (with coolant device)

Max Pressione refrigerante (con adattatore refr. )

bar
/
120
/
Turret weight

Peso torretta

Kg
30
50
55
100
120
300
370
520
Download catalog