TBMA Series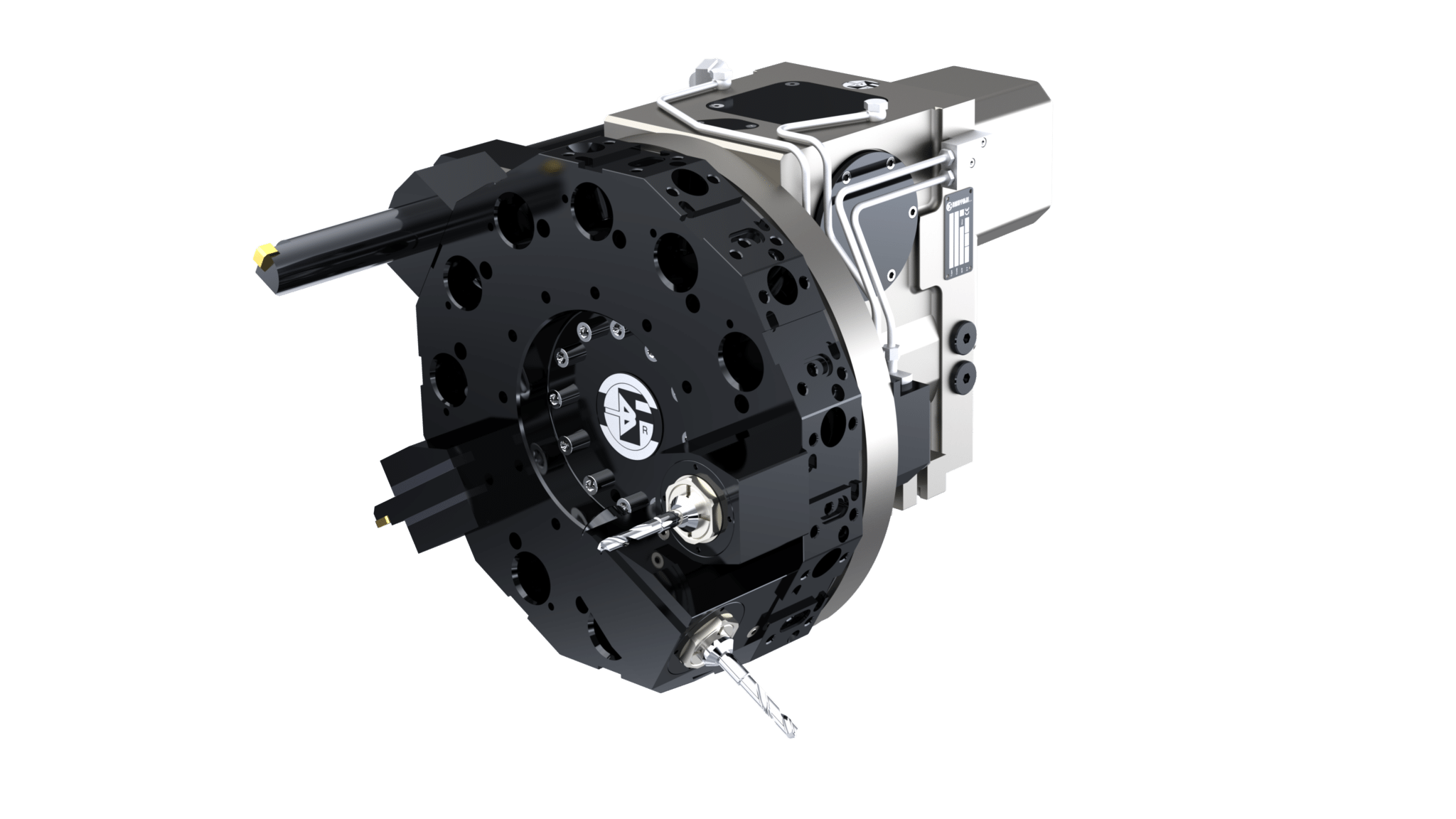 Turrets with rotating tools with external modular driven tool sistem, which is applied externally on the TB standard turrets.
Only th etool in the working position is driven.
Automatic engagement and disengagement of rotating tool during turret indexing cycle (difficult orientations of the rotating tool shaft are eliminated – DEAD TIME SAVING).
Use of ISO 10889 (ex DIN 69880) discs.
Every position on the tooldisc can receive either toolholder with rotating of fixed tool.
Compact overall dimensions of the driven tool system do not effect the working capacity of the lathe.
Size

Taglia

TBMA100
TBMA120
TBMA160
TBMA200
TBMA250
TBMA320
TBMA400
Number of division

Numero di posizioni

8-12-16
8 – 12 – 16 – 24
Moment of Inertia

Momento d'inerzia

Kgm²
0,25
0,15÷1,8
0,15÷1,8
0,4÷8
0,4÷8
0,7÷40
20÷100
Max tangential torque

Max coppia tangenziale

Nm
450
1100
1900
4000
7500
16000
26000
Max Overturning torque in pressing direction

Max coppia ribaltante a premere

400
1200
2100
6000
12000
25000
41400
Max Overturning torque in lifting direction

Max coppia ribaltante a sollevare

150
700
1600
3500
6500
13000
20000
Max Unbalancing torque

Max coppia sbilanciata

3
10
15
40
60
160
470
Positioning accuracy

Precisione di posizionamento

Deg.

±4″
Accuracy of repeatability

Accuratezza Ripetibilità

Deg.

±1,6″
Positining time *

Tempo di Posizionamento *

30°
sec
0,13
0,13÷0,24
0,20÷0,34
0,64
45°
sec
0,17
0,17÷0,28
0,25÷0,38
0,71
180°
sec
0,3
0,34÷0,50
0,53÷0,73
1,76
Unlocking + Locking time*

Tempo di sbloccaggio + bloccaggio*

sec
0,3
0,43
0,53
1,2
Pneumatic Locking Pressure

Pressione pneumatica di bloccaggio

Bar
5 ±1
/
Hydraulic Locking Pressure

Pressione idraulica di bloccaggio

Bar
/
30 ±3
Max coolant pressure (standard version)

Max Pressione refrigerante (versione standard)

bar
40
Max coolant pressure (special version)

Max Pressione refrigerante (versione speciale)

bar
70
Max coolant pressure (with coolant device)

Max Pressione refrigerante (con adattatore refr. )

bar
/
120
Turret weight

Peso torretta

Kg
70
90
100
180
250
550
800
Driven Tool
Size

Taglia

TBMA100
TBMA120
TBMA160
TBMA200
TBMA250
TBMA320
TBMA400
VDI size

Taglia VDI

16-20
20-30
30-40
40-50
50-60
60
60-80
Max speed of driven tool

Velocità massima motorizzazione

rpm
6000
5000
3500
3000
Max speed of driven tool (forced lubrication version)

Velocità massima motorizzazione (versione lubr. forzata)

rpm
8000
7000
/
/
Max motor nominal torque (S1)

Massima copia nominale motore (S1)

Nm
10
16
20
50
55
100
130
Max nominal power

Massima potenza nominale

Kw
3
5
6
9
10
15
18,5
Ratio: RPM motor : RPM take power

Rapporto: Giri/min motore – Giri/min presa di moto

1:1
/
/
1:1.25
1:1.315
1:1.52
1:1.45
1:1.85
Live Tooling System

Sistema/Dentatura utensile

Baruffaldi – DIN5480
Download catalog