TAB – Servo turrets with vertical axis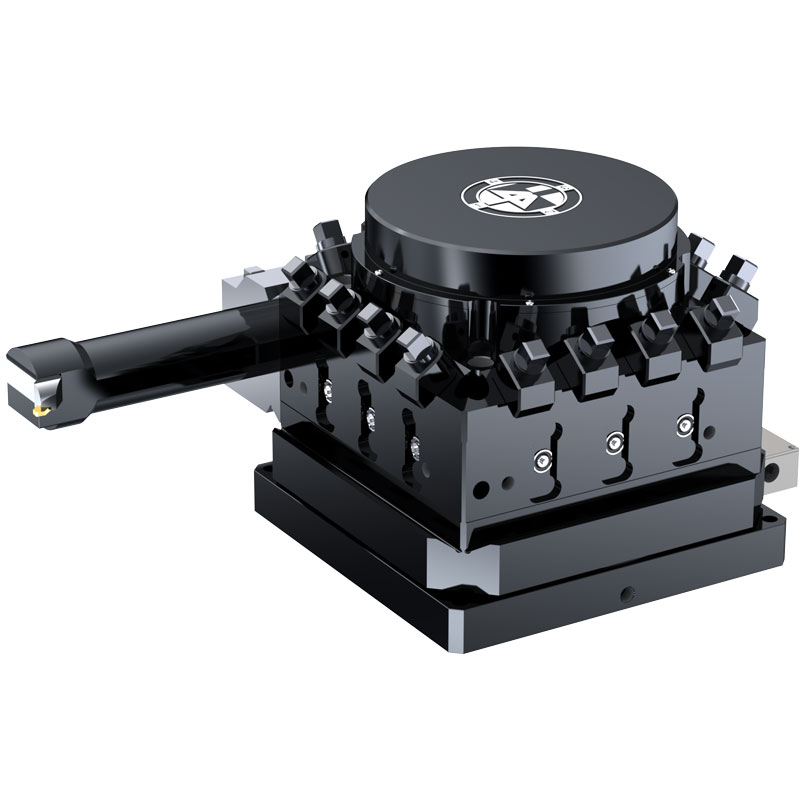 TAB is a vertical axis turret with bi-directional positioning, no body lifting during the indexing rotation, really simple design, really high performances and request a minimum maintenance.
They use a fully hydraulic locking system and rotate thanks to a BRUSHLESS SERVO MOTOR controlled by a SERVO DRIVE.
Turrets can carry 4/6 tool holders as per DIN 69881 norms;  on demand, they can be supplied with a different number of faces or special body.
TAB turrets can be mounted with the axis in horizontal, slanting position.
Main Characteristics:
• Very high rotation speed with minimum indexing times
• Bi-directional
• Locking and Unlocking without body lifting
• Double sensor for locking and unlocking status
• High rigidity due to the new design
• Possibility to use turret body with 4 or 6 positions.
• Possibility to lock the turret in intermediate positions (24 divisions)
• Coolant output flow through valve on the body side
• Possibility, upon request, to increase the coolant pressure up to 70 bar
Size

Taglia

TAB 210
TAB 265
TAB 340
N° of stations (standard)

N° di posizioni (standard)

4
N° of stations (optional)

N° di posizioni (opzionale)

6
N° of divisions

N°di divisioni

24
Direction of rotation

Direzione di rotazione

Bidirectional

Bidirezionale

Max Moment of Inertia

Momento d'inerzia massimo

kgm²
8
8
30
Clamping Force (at 50bar)

Forza di bloccaggio (a 50bar)

N
36000
62000
92000
Max Tangential Torque

Massima coppia tangenziale

Nm
3200
6560
13850
Max Overturning Torque (pressing)*

Massima coppia ribaltante (a premere)*

Nm
6600
13800
29500
Max Overturning Torque (lifting)*

Massima coppia ribaltante (a sollevare)*

Nm
2600
5000
10900
* Distance from turret axis

* Distanza dall'asse torretta

mm
200
250
300
Positioning Accuracy

Precisione di posizionamento

deg.
±4″
Accuracy of Repeatability

Precisione di ripetibilità

deg.
±1,6″
Hydraulic Locking Pressure

Pressione idraulica di serraggio

bar
50 ±5
Max coolant pressure (standard)

Massima pressione refr. (standard)

20
Max coolant pressure (option)

Massima pressione refr. (opzionale)

70
Ambient temperature range

Temperatura ambiente

°C
0-40
Protection degree

Gradi di protezione

IP
65
Locking+unlocking time*

Tempi aperture/chiusura*

sec.
0.75
0.75
0.9
Minimum positioning time

Tempi posizionamento minimi

90°
sec.
0.55
0.55
0.92
180°
0.85
0.85
1.34
360°
1.45
1.45
2.2
Download catalog