YAX Series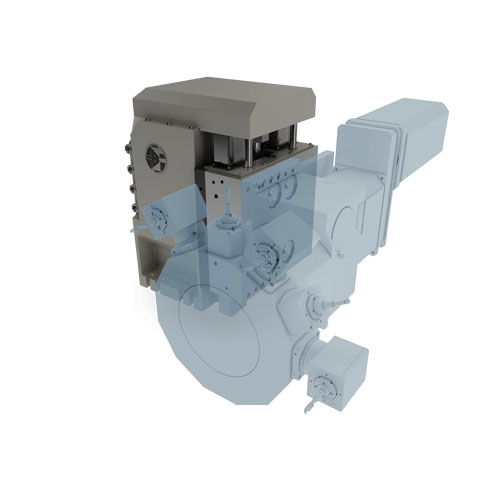 The YAX unit allows displacement of tools in lathe Y-direction, in order to produce manifolds where out-of-axis operations are required, such as face millings, holes and tappings, key-slots and so on.
It can be fit on flat bed lathes as well as on slant bed lathes, where required y-axis movement is perpendicular to machine slide. The rugged meehanite cast iron column with wide sliding guideways and all other strongly designed components, together with hydraulic guideways preload system (patent pending) allow hard machining operations either with fixed tools and live tools.
Thanks to the modular design, YAX is available in 3 sizes: YAX 16 (for 120 and 160 size turrets), YAX 25 (for 200 and 250 size turrets) and YAX 40 (for 320 and 400 size turrets). TBYA as well as TBYR turrets can be fit.
Standard strokes are available as well as custom strokes (to be defined with our Technical Department).
Y-Axis unit
YAX
YAX size
160
250
400
Turret size
120
160
200
250
320
400
Nominal stroke *
mm
± 60
± 80
± 100
Ball screw diameter x pitch
mm
32 x 5
40 x 5
63 x 10
Max speed in Y direction
m/min
10
10
10
Max motor speed
rpm
4000
4000
2000
Max feed force in Y direction
KN
8
12
18
27
32
39
Min suggested motor torque
Nm
4
6
10
13
25
30
Hydraulic brake force in Y-direction **
N/bar
50
90
180
Max Y-direction hydraulic brake oil pressure ***
bar
100 (150)
100 (150)
100 (150)
Positioning accuracy
Motor encoder
µm
≤ 20
≤ 20
≤ 20
Ball screw encoder (optional)
≤ 15
≤ 15
≤ 15
Linear encoder (optional)
≤ 10
≤ 10
≤ 10
 YAX unit weight (without turret)
Kg
~ 250
~ 450
~ 800
Download catalog