TEMA – Electromechanical Turrets with Axial Driven Tool System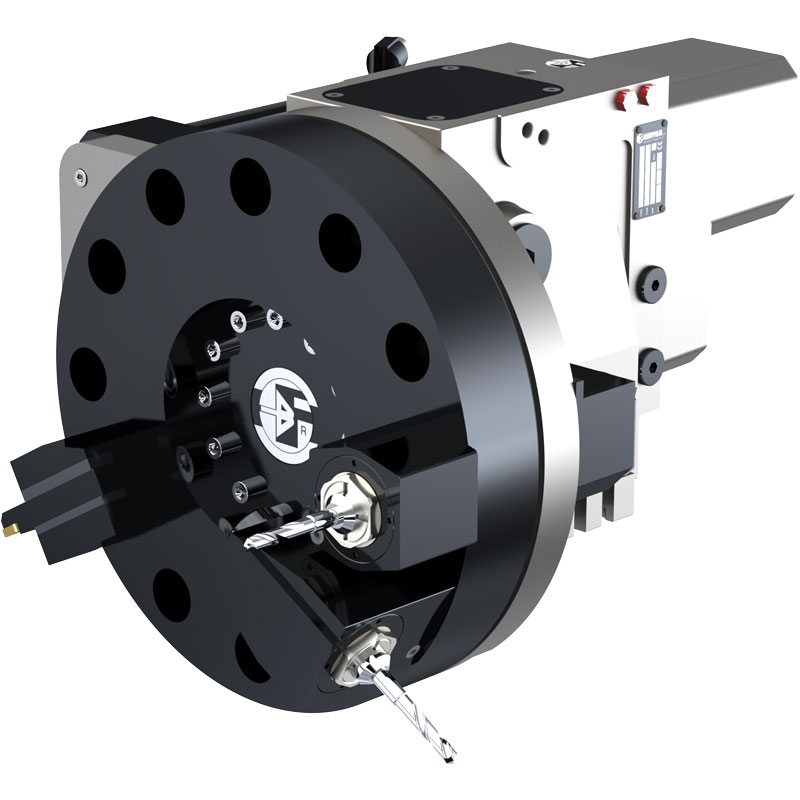 Turrets with external modular rotating tool system, which is applied externally on the TE standard turrets.
Only the tool in the working position is driven.
Tooling system as per DIN 1809 and Toolholder Discs according to ISO 10889 (ex DIN 69880).
Every position on the tooldisc can be equipped either rotary tools or static tools.
TEMA Turrets have full electromechanical mechanism for tool disc rotation, locking  and unlocking; These turrets do not require any addittional hydraulic or pneumatic component for functioning.
TEMA Turrets – General techcnical data
Size

Taglia

TEMA 160
TEMA 200
TEMA 250
Number of division

Numero di posizioni

8 -12
Direction of rotation

Direzione di rotazione

Bidirectional

Bidirezionale

Moment of  Inertia

Momento d'inerzia

Kgm²
1,2
6
Max tangential torque

Max coppia tangenziale

Nm
1900
4000
7500
Max Overturning torque (pressing)

Max coppia ribaltante (a premere)

2100
6000
12000
Max Overturning torque (lifting)

Max coppia ribaltante (a sollevare)

1600
3500
6500
Max Unbalancing torque

Max coppia sbilanciata

15
40
60
Positioning  accuracy

Precisione di posizionamento

Deg.
±4″
Accuracy of repeatability

Accuratezza Ripetibilità

±1,6″
Positining time *

Tempo di Posizionamento *

30°
sec
0,36
0,45
45°
sec
0,45
0,57
180°
sec
1,25
1,7
Unlocking + Locking time

Tempo di sbloccaggio + blocaggio

sec
0.5
0.9
Indexing frequency*

Frequenza cambio utensile*

n°/h
700
550
400
Motor voltage

Voltaggio motore

V
110-220-380
Max coolant pressure (standard version)

Max Pressione  refrigerante (versione standard)

bar
20
Max coolant pressure (special version)

Max Pressione  refrigerante (versione speciale)

bar
70
Ambient temperature range

Temperatura ambiente

°C
0-40
Protection degree

Gradi di protezione

IP
65
*This value could change according to the characteristic of the environment, tool holder disc type and weight of the tool holders
TEMA Turrets – Driven tool unit technical data
Size

Taglia

TEMA160
TEMA200
TEMA250
VDI size

Taglia VDI

30
40
50
Max speed of driven tool

Velocità massima motorizzazione

rpm
6000
5000
5000
Max speed of driven tool (forced lubrication version)

Velocità massima motorizzazione (versione lubr. forzata)

rpm
8000
8000
8000
Max motor nominal  torque (S1)

Massima copia nominale motore (S1)

Nm
20
50
55
Max nominal power

Massima potenza nominale

Kw
6
9
10
Ratio: RPM motor : RPM take power

Rapporto: Giri/min motore – Giri/min presa di moto

1:1
1:1
1:1
Live Tooling System

Sistema/Dentatura  utensile

DIN 1809
DIN 1809
DIN 1809
Download catalog